Pita the fool who doesn't know where to find Evanston's best hummus.
Hummus is a golden, storied dip. Chickpeas, the essential mortar of hummus, have been a staple of the Mediterranean diet for millennia. In fact, the word "hummus" means "chickpeas" in Arabic. After years of devoted consumption, I'd like to think I know a thing or two about what makes good hummus. I decided to put my palate to the test by sampling a smorgasbord of Evanston hummus offerings.
My Criteria:
In hummus, as in life, I seek a delicate balance. Is there enough lemon juice to cut through the creaminess of the tahini? Does the garlic overpower the rest of the dip? Is the consistency smooth, but still thick enough to hold up to the pita (or whatever vehicle you choose to transport hummus into your mouth)? I considered these factors, as well as the overall dining experience at each restaurant, when assessing Evanston's hummus options.
The Olive Mountain: 9.5/10
The Olive Mountain on Davis Street has been dishing out plates of tabbouleh, falafel and shawarma for nearly 30 years. With its light pink walls and colorful, ornately framed paintings, the restaurant is a bit of a trip in the best way. Prepare to be greeted by a gregarious and attentive wait staff. (Seriously, Mike is the best.)
The menu is extensive, but regardless of what you order, be sure to try their hummus. Shaped like a small basin, the hummus is filled with a puddle of olive oil and lemon juice, flecked with pieces of parsley and dusted with paprika. Several chickpeas bathe in the decadent pool of citrusy oil. With one swipe of pita into the dip, you taste the glossy, peppery olive oil and the brightness of the lemon juice, the subtle smokiness of the paprika and the garlicky goodness of the tahini-chickpea mélange itself. It's a beautiful thing.
The velvety hummus is also an ideal companion to the crunchy, slightly spicy falafel. Some bites left me wishing for a bit more salt, but maybe that's because I was weaned on sodium-laden Sabra. This dip has enough complexity to stand alone. All in all, The Olive Mountain's hummus is in a class of its own.
Cross-Rhodes: 8/10
Cross-Rhodes is a bit off the beaten path for Northwestern students. The Greek diner sits on Chicago Avenue in south Evanston, a brief walk from the Main Street train station. The restaurant opened in 1984 and continues to be a local mainstay. On Sunday evenings, the place is packed with families and older couples. Blue and white string lights hang on the bright white walls and over an open kitchen. Big Santorini vibes.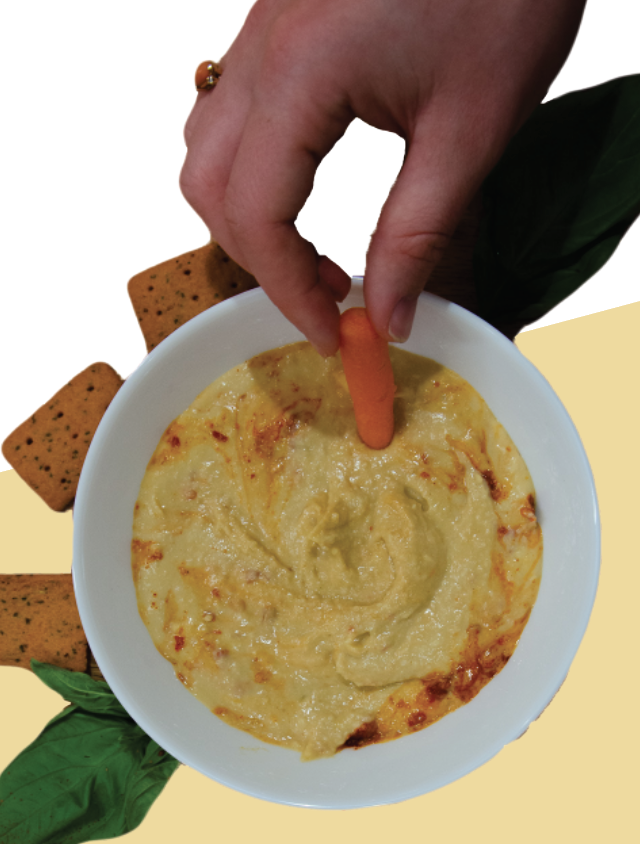 The menu is filled with Mediterranean staples like flaky spanakopita (spinach and cheese pie) and gyros. The crispy, thick-cut "Maria fries" with crumbled feta are worth the walk alone. But I didn't come for fries or feta. I came for pulverized chickpeas.
The hummus at Cross-Rhodes is light in texture and loaded with lemon juice. Served with a side of slightly charred, pleasantly chewy pita, the dip glistens with olive oil and is quite garlicky. Those who prefer creamier hummus may be disappointed, as the Cross-Rhodes variety has less tahini than other Evanston options. That being said, the flavors are sharp and unapologetic, and I love that.
Pro tip: If you're not too full from the savory offerings, be sure to end your mealwith a slice of their moist, cinnamon-spiced carrot cake. You can walk it off on the way back to campus. Also, if you're going to make the schlep to Cross-Rhodes (and you most definitely should), be sure to bring some green. The diner is cash-only.
Naf Naf Grill: 7.5/10
Naf Naf is the McDonald's of Middle Eastern fare. There are eight Naf Naf locations in the northern Chicago suburbs, and when you walk into any of their orange- accented establishments, you know exactly what you're getting. Whether it's one of their signature falafel bowls or a stuffed pita sandwich, Naf Naf delivers on quantity. After a meal there, I am uncomfortably full.
I have to say, Naf Naf's hummus hits the mark on several fronts. It has a thick, luscious mouthfeel — a perfect complement to the chain's signature fluffy pita. While garlic can easily dominate the flavor of hummus, Naf Naf's has just the right amount. However, the dip is almost too well-blended. Though tasty overall, the uniform texture leaves me wanting a bite of whole chickpea or a bit of fresh parsley. But hey, for a fast-casual chain, I'm not complaining.
Olive Mediterranean Grill: 6.5/10
Ah, Olive Mediterranean Grill. Or, as those in the know call it, "OMG." Like Naf Naf, OMG is a chain of Mediterranean restaurants in the Chicagoland area. The Evanston outpost has prime real estate on Sherman Avenue, and on any given night, you can find a good mix of students and locals queuing up to choose a plate or pita sandwich in front of an assembly-line assortment of salads, grains, dips and proteins. With low-hanging light fixtures, rustic wood tables and a soundtrack of soothing flute music, OMG definitely ups Naf Naf on the chain charm factor.
Hummus was by far the best component of my OMG plate, but that's not saying much. The falafel was bland and a little soggy, and all I could taste in the tabbouleh was parsley. Like the hummus at The Olive Mountain, OMG's hummus is shaped like a crater and filled with olive oil and spices. The consistency, creamy but not too dense, met my Goldilocks standards. But beyond the pleasing texture and the slight kick of garlic and paprika, it fell flat for me. OMG hummus is perfectly adequate for those living on campus looking for a quick fix of Mediterranean cuisine, but definitely nothing to write home about.