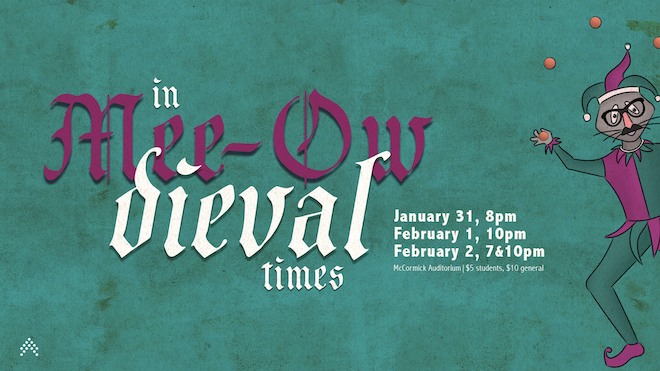 This year marks the 45th anniversary that Mee-Ow has existed on campus, and it has showcased work every year.
"Comedy, rock & roll, improv," is how technical director Nate Brown describes Mee-Ow.
Mee-Owdieval opened on Thursday night in McCormick auditorium and had two consecutive shows on Friday and Saturday, with the Friday show being the most popular.
The show opened with a song by two students accompanied by live band, Honeybutter. However, even though the theme was set in medieval times, only the first skit stuck to the theme while the other improv exercises and skits were more random.
Mee-Ow contained a variety of performances with varying lengths – some skits lasting less than 15 seconds. Even so, the actors showed that even a one- or two-liner can lead to thunderous laughs from the crowd. Almost every joke landed, and the energy in the room was dynamic.
The cast engaged the crowd throughout the entire show. Whether the actors were performing in the aisles or calling on crowd members for suggestions for the improv exercises, Mee-Ow made sure to keep the crowd actively involved. The show also featured dance breaks in which more than half of the crowd joined them on stage for a sweaty and loud dance party while Honeybutter and some cast members performed.
Mee-Owdieval showcased the wide variety of talent from the cast. They performed light-hearted skits parodying President Morton Shapiro and filled the auditorium with their and the crowd's voices while singing "Bush did 9/11." Mee-Owdieval was undoubtedly a hit, as expected.
Mee-Ow plans to perform Mee-Owdieval around the eighth week in the quarter, but they will also perform some gigs throughout the year, according to Nicole Andonova, the marketing director.