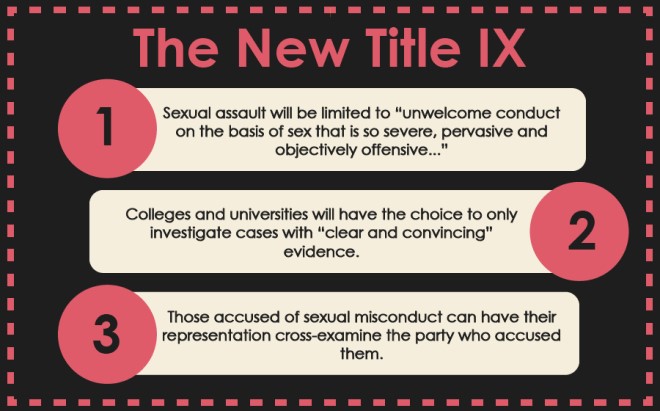 As the highly controversial proposed changes to Title IX await finalization, students and faculty alike are voicing their concerns over the effects on the campus community. The changes would create a new protocol for colleges and universities in investigations of sexual misconduct. Recently, multiple aspects of the revised policy have come under fire for potentially creating an unsafe or damaging atmosphere for survivors on college campuses.
In a panel hosted by the Office of Equity, the Center for Awareness, Response, and Education (CARE) and student groups, members of the community were urged to submit formal critiques of the policy, which the federal government will read during a legally required 60-day comment period.
"[The comments] have the potential to make a difference," said Rebecca Lazer, Vice President of ASG's Health & Wellness Committee. "The federal government is obligated to respond to every single comment it receives. It's the best way to force the government to pay attention to our concerns."
The panelists maintained that as a community that supports survivors, it is imperative for students to take action in any way possible.
"It is one of the few mechanisms we have as students, as advocates for survivors, to voice our opposition to parts of these changes," added David Fishman, director of Men Against Rape and Sexual assault (MARS). "In a time like this, allies and advocates have to do whatever they can to protect the people who would be affected."
The proposed changes include limiting the definition of sexual harassment to misconduct that is "severe, pervasive and objectively offensive," as well as allowing universities to use informal resolution measures like mediation in lieu of investigation. In addition, schools must require "clear and convincing" evidence for allegations against faculty and can choose whether to require it in cases accusing undergraduates.
After learning of the changes through the panel, Weinberg freshman Sarah Richman was worried about the new policy sheltering those accused of sexual misconduct.
"[The proposed changes] seem to be protecting the accused instead of the victims of assault that should be protected," she said. "The policies require that the person being accused is presumed not guilty before inquiring further, but what that's really saying is to presume that the accuser is lying."
A particular issue for both panelists and attendees was a rule allowing individuals accused of sexual harassment to cross-examine their accusers, which could be a traumatic experience for survivors of sexual misconduct. Panelist and Northwestern law professor Deborah Tuerkheimer advised against this concept, saying that turning collegiate Title IX procedures into an "adversarial, court-like system" could create equity issues and emotional damage.
It is still unclear to what extent Northwestern, as a private institution, will have to enforce these changes. In contrast with the federal policy, Northwestern is still required to conduct investigations using "preponderance of evidence," or low-level proof, by Illinois state law.
"The short answer is that it's really, really complicated," said Fishman. "The degree to which the changes will affect the Title IX process, and where the university may have leeway, is still up in the air. But we know that some things are going to have to change, and that in itself is disheartening."