Students struggle to navigate the healthcare system with minimal support.
Illustrations by Audrey Valbuena
Ambrelyn Rodriguez can only remember one instance when she went to the doctor because she was ill. Her entire family was incredibly sick with what they thought was strep throat and needed a doctor to prescribe them antibiotics. They would go years without seeing the dentist; she remembers her mother trying to repair a lost filling with temporary sealant bought at the drugstore as opposed to seeking care. Due to fear of out-of-pocket costs, her family sought medical attention only when it was a real emergency. Otherwise, they had to "suck it up."
Before coming to Northwestern, Rodriguez was on insurance through her father's job, but it was insufficient for her healthcare needs. Now that she is a first year at Northwestern, Rodriguez is one of roughly 2,200 undergraduate students on the Northwestern University Student Health Insurance Plan (NUSHIP). Since enrolling in NU-SHIP, she has gotten a skin tag removed and a prescription for acne medication, services she would have considered out of the question on her old insurance.
Rodriguez, along with 668 other students, receives grant assistance for NU-SHIP through financial aid. Compared to her old coverage, she feels grateful to have NU-SHIP. "I feel like even if I'm sick, I can go to the doctor, [even] if I just have a cold, which is a crazy phenomenon for me," she says.
Not all students are as lucky as Rodriguez. Many do not have insurance as good as NU-SHIP, and some do not feel they can seek care while at Northwestern because of the costs. While there is grant assistance available for NU-SHIP, it isn't publicized effectively enough to reach all the students who need it. Without quality insurance and knowledge of an alternative, some students are left feeling wholly responsible for their own health and with nowhere to turn.
---
Imani Harris worked three jobs over the summer to save for emergencies while at school. She encountered one within her first months on campus: her CAESAR account was frozen in November because she didn't have all her required immunizations. She scrambled to find a way to get the vaccine without having to pay the $230 out-of-pocket fee at Searle.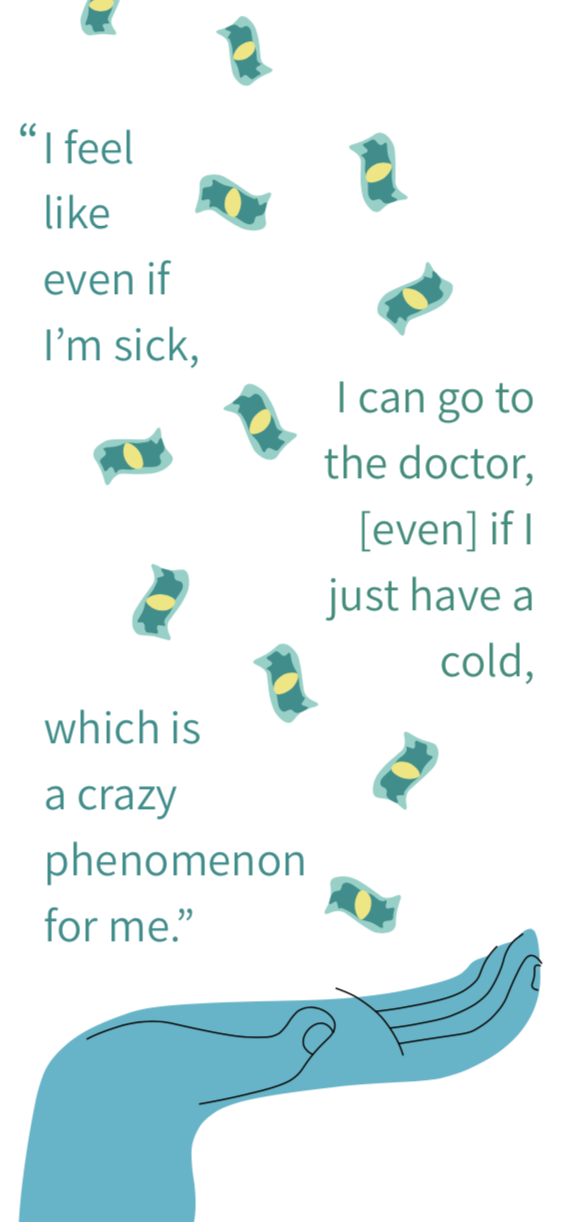 Imani, a Medill first year from Detroit, is insured by Blue Cross Blue Shield of Michigan through her mother's job. Her insurance only covers services provided through her primary care physician in Detroit and she does not have in-network providers locally. Imani spent hours playing phone tag with her health insurance office and primary care physician. "It was kind of like, 'Oh, this isn't our problem, call this office,' and then they'd be like, 'This isn't our problem, call this office,'" she says. It was "heartbreaking" to feel like none of these people cared and that she was alone in figuring it out. She ended up getting the vaccine at Searle and paid the fee from her savings. She worries that if she has a medical emergency it will financially impact her for the rest of her time at Northwestern, cutting into money spent on textbooks or activities with friends. "The money that I have, is all the money that I have," she says.
Northwestern requires students to have insurance that meets a list of specific criteria, including in-network providers in the Chicago area. If their private insurance does not meet that criteria, they are signed up for NU-SHIP by default, and their student account is charged the hefty annual premium of $3,950. Many students only know NUSHIP from the emails they receive in the summer asking to confirm or waive their coverage.
However, some out-of-state students fall through the cracks. Imani is one of several students whose insurance doesn't meet the University's requirements and are paying the price for it. "I would probably have to think that I was … near death or be very, very hurt to go to Searle," Imani says. "I don't really want to have to worry about the bill." Because of Imani's financial situation, she is eligible for free health insurance through financial aid. But it was unclear to her if that was an option.
After submitting the paperwork for her meningitis vaccine, she visited the Office of Student Health Insurance to check if her insurance met the requirements or if she had been automatically charged for NU-SHIP. They told her that she had submitted proof of insurance for the Blue Cross Blue Shield of Michigan plan and so was not on NU-SHIP. They never mentioned that it didn't meet the school's requirements.
The Office of Student Health Insurance relies mostly on self-reported information when it comes to whether students' insurance meets Northwestern's requirements. Kourtney Cockrell is the Director of Student Enrichment Services (SES), an office that works to support first-generation and low-income Northwestern students. She says that because students self-report, problems arise when students think they have local coverage when, in fact, they don't. "Sometimes the student and the parents are answering it incorrectly not on purpose, but [because] they don't know," she says.
Some insurance plans that do not meet Northwestern's requirements are easy to flag. Others are much harder to identify. For example, out-of-state Medicaid plans, a federal and state-run insurance program for low-income and disabled Americans, are not accepted by Northwestern. However, many of these plans are run through private insurers and are labeled like a private plan, making it much harder to pick out. "There's only so much that we can do because you're talking ten thousand students," says Pam Tackett, Student Insurance Program Interim Manager in the Office of Student Health Insurance. "We do try to make sure that they're all covered, but there are some that are going to slip through." Tackett says her office is currently looking into having an outside company audit students' insurance waivers.
Meanwhile, insufficient publicity surrounding NU-SHIP grant assistance is keeping some students in the dark who would otherwise qualify. Rodriguez's insurance plan did not meet Northwestern's requirements, and she was frantic about what to do, considering her family could not afford the $3,950 premium. She didn't always know financial aid for NU-SHIP was an option and went through a difficult process to find out.
"I was freaking out about it, and then it was the day it was due, and I called Financial Aid and I was just like, 'Hey, I don't know what to do about this, and I don't have $4,000 to just pay for it,'" she says. They took a look at her financial aid reward and told her that she could probably qualify for financial aid for NU-SHIP. Until that moment, she hadn't known that was an option. She filled out the application, and it was quickly accepted. She then got the immunizations, with no out-of-pocket cost, and the hold was removed from her account. In terms of publicity, Cockrell says, "It is an iterative process, and I think we're improving every year."
Brian Drabik, Senior Associate Director in the Office of Undergraduate Financial Aid, says that for the past two years his office has sent out emails over the summer to students who qualify for NU-SHIP assistance — students whose annual expected family contribution is $10,000 or less. Students who didn't fill out the necessary forms after the first email were then sent another. In the Purple Prep book, the health insurance section briefly mentions that "Pell-Grant eligible students may be able to obtain funding to cover the insurance premium." It also encourages students to contact Financial Aid for more information.
This increase in communication has led to 156 more students receiving some form of grant assistance this year compared to the 2017-2018 school year. "We do a lot of outreach," Drabik says, "so I think you'd be hard–pressed to find someone that is in that range that doesn't have the assistance."
That said, it seems that these methods of advertisement haven't been enough. While some students found health insurance assistance easily, others who meet the qualifications, like Imani, don't remember any mention of health insurance assistance or had a difficult time finding out how to apply, like Brett Mayfield, a first year QuestBridge scholar, from Welch, Oklahoma.
Mayfield first discovered the option through an email with "a very small clause at the bottom." He says the email didn't explain how to apply. Through a group chat with other QuestBridge scholars, Mayfield found the health insurance aid request application "deep in the internet." Since students self-report if their insurance meets Northwestern's requirements and there are holes in the existing audit process, the Office of Student Health Insurance may not know the number of students who should be receiving NU-SHIP through financial aid but instead are living without quality access to care.
---
In comparison to many public and some private insurance plans, NU-SHIP is good health insurance. The annual deductible (the amount paid before insurance begins covering costs) is $250 per policy year. In contrast, the average deductible for individuals with Affordable Care Act (ACA) plans gained during the 2018 Open Enrollment Period was $4,578. Under NU-SHIP, many services like routine physical exams, preventative care immunizations and STI counseling visits are fully covered with in-network providers, meaning there are no out-of-pocket costs.
Under NU-SHIP, mental health counseling visits are a maximum of a $20 co-pay (a flat fee that you pay out of pocket) when referred by CAPS. Generic preferred prescription drugs are only a $10 copay per monthly refill. With many ACA plans, prescription and mental health co-pays are only applicable after you've met the deductible. This means you would be paying most costs completely out-of-pocket until you've paid $4,578 in a policy year.
Chayda Harding is a Weinberg first year from New York City. She is currently on NU-SHIP through financial aid, but before coming to Northwestern was on Medicaid. The prescription medication that she takes now would have cost $1,300 per month on Medicaid because it wouldn't cover the most recent version. With NU-SHIP she only pays $60 per month for her medication even though it is a non-preferred brand name prescription drug.
---
Many students interviewed feel they don't fully understand their insurance, even if they have to pay their own costs. They observed a privilege gap at Northwestern when it came to health insurance and awareness surrounding the health care costs. Even when taking matters into their own hands they run into issues getting the answers they need. "I've called every number on the back of the [insurance] card, including directly to my doctor's office, and they absolutely never answer," Imani says.

Mark Prins, a student health insurance advocate in the Office of Student Health Insurance, says many students have never had to understand their insurance before coming to college. "We do run across students who just have never had to deal with it, because their parents don't want to add … the burden of learning how to read an EOB [Explanation of Benefits] and understand what a deductible and coinsurance is. [Their parents are] like, 'I'll just take care of it,'" he says.
Rodriguez's parents would often ask her to read their policies and help them understand. Even now, Rodriguez helps her family navigate their private insurance while she is on NU-SHIP. "Coming from my parents who don't really understand the system, I had to kind of understand that for them," she says. Prins also says that part of the reason they have students report their own insurance information is to push them to learn about their own insurance.
LaTesha Harris is a Medill third year and QuestBridge scholar from Waco, Texas. Like Imani, she doesn't have insurance with in-network providers locally and doesn't feel comfortable seeking care while at Northwestern due to the costs. When she was sick recently, her friends told her to visit a doctor but she didn't know how to tell them that she couldn't afford it. "They just weren't understanding why I was so hesitant to go. And they just weren't listening to me. It's just really frustrating because I can't just be like, 'I am terrified to go to the doctor because I won't have money to pay for any surprise fees," she says.
LaTesha has encountered professors who require a doctor's note in order to make up work. She feels that practice is classist and ableist because "not feeling well manifests itself in different ways for everyone," and "if you have to go to the doctor every single time that you don't feel well enough to go to class, it's just ridiculous … because that racks up unnecessary bills."
---
For many students, this is the first time they encounter the intricacies of health care, as well as the impacts of the national health care debate on their lives. Imani is frustrated by those who believe health care is a privilege, not a right, especially if they have never had to survive without quality health insurance or live uninsured. "A lot of people are like, 'Oh, just pull yourself up by the bootstraps. Just go get a job.' But it's not that easy. Health care is expensive as hell," Imani says.
If federal officials dismantle the ACA, Cockrell says that there could be downstream effects on Northwestern students. "We are already seeing students getting through that eligibility requirement because they have this named insurance that appears to be private, but it's really not. So if they dismantle ACA, it would be even worse. You'd have all of these horrible providers providing really minimal coverage, which means that then when you actually need your health insurance, there'd be no resources," Cockrell says.
As for post-graduation plans, many students have no idea what they will do in terms of insurance. NU-SHIP covers students through the summer after graduation, but then they are on their own. "If we are doing our jobs as educators, then we're getting students either into graduate school, or jobs that will provide insurance," Cockrell says. If students don't find a job, many say they will go back to being on their parents' insurance plans until they are 26 or go without insurance altogether. "I actually think about [what to do for health insurance after graduation] all the time. I'm so totally terrified," LaTesha says.
---
It's clear that, while Northwestern does a lot right in regards to health insurance, it still has very far to go. "There has to be a better way to do things," Imani says. "Nothing is clear to me." The Office of Student Health Insurance recognizes this confusion, and Prins says it is looking into holding more workshops this year to help students better understand their insurance.
Cockrell has advocated for having all students who meet a certain financial threshold receive automatic coverage by NU-SHIP through financial aid. However, Drabik says this option is not as viable as it seems. "In theory, it sounds like a very generous and smart thing to do, just throw the money on and cover everybody," he says. "However, there are students who miss the deadline who have insurance. So what we're doing is we're paying for something that's already covered. So we really want to make sure they've gone through all of the steps that they need to so that we're not paying for something that they don't need."
Regardless, access to quality health care remains a pressing concern. "I think this is probably one of the most critical issues impacting our students," Cockrell says. "Because if your physical and mental health is not taken care of, how can you do anything else? So we've got to get this right."
If you have any questions about NU-SHIP or insurance in general, you should reach out to the office of Student Health Insurance. In addition, if your expected family contribution is $10,000 or less you should contact Undergraduate Financial Aid to see if you qualify for NUSHIP grant assistance. Lastly, students who have burdensome costs of any kind should contact SES and inquire about the Student Emergency and Essential Needs (SEEN) Fund.
This article was updated on 12/12. A previous version of the article stated that Northwestern requires students to have in-network providers in the Evanston area, rather than the Chicago area.